22 Jun 2007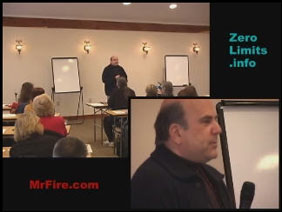 Amazon worked with Joe and Wiley Publishing to make his own web page on Amazon.com! I made the video that is posted on it. It has a Jack Bauer, 24 feel. I made it under a time crunch and decided that a "split screen" would be faster to make than traditional cutting back and forth from camera to camera. Once I tried it in the timeline I instantly realized I was more visually engaged than I would have been if the cameras were cut back to back. You can watch it on his new Amazon page here-- www.amazon.com/vitale

I made the video in Ulead VideoStudio, a software costing under $99. I spent most my time searching for the best relavent, engaging 5 minute piece from the first hour and half of the seminar. Then I spent about 30 minutes "editing" which includes being inspired to do the split screen. Then I spent about an hour making the video--rendering it to mpeg then to two WMV versions, high and low compressions. Next I uploaded it to one of my domains so Amazon could download it.


******************************************
That's a wrap! Say it with video!
Nerissa Oden
www.TheVideoQueen.com

©2007 Nerissa Oden
Article free to share, distribute and print when including all text, images, videos, by line, and copyright.